Features:

Spacious and luxurious
Two bedrooms
New Fireplace
Wireless internet, Digital flat screen T.V., VCR & DVD player, surround sound, outside speakers
Fully equipped kitchen
Washer, dryer and dishwasher
Books and movies
Private furnished patio
Situated on 1.3 acres
Stunning view of Green Bay Inlet
Air conditioning
Canoe and lifejackets
Bicycles and helmets
Close to Beaches
On the practical side, the fully equipped kitchen has everything you'll need to feel at home, from the full sized refrigerator, stove, microwave oven and dishwasher, right down to the oversized pot, perfect for cooking your lobster.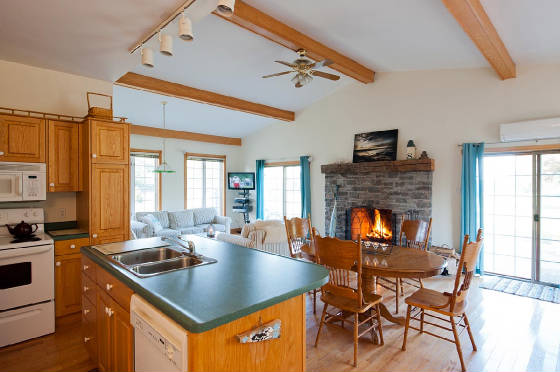 Kitchen
Petite Villa is nestled between Green Bay Beach and Risser's Beach Provincial Park. Crescent Beach, a favourite with windsurfers, and the lovely and more secluded Cherry Hill Beach are only minutes away.

Refresh your spirit at the Petite Villa Guest Cottage.


Canada Select 4 Star Rated Accommodation
Member of the Nova Scotia Tourism Association