Lighthouse Route

The Petite Villa is located in the heart of Nova Scotia's Lighthouse Route.



Come and celebrate the timeless romance of the sea. The Lighthouse Route journeys through an unforgettable landscape of coastal beauty and historic charm that has captured the hearts and minds of travellers for generations. Imagine the landscape as it was when Champlain and deMonts first arrived four centuries ago. Follow shoreline roads past rugged, wave-carved headlands and tranquil, island-studded bays. Discover historic towns and weathered fishing villages where legends of the sea come alive and the rhythm of life moves in harmony with the tides.



The Lighthouse Route follows Nova Scotia's South Shore, where the past is a part of everyday life. You'll find it along quiet country roads where ox teams still haul lumber, and coastal villages where fishermen still row wooden dories out to sea. Explore towns like Liverpool, with its privateer legends, and Lunenburg, where a working blacksmith still plies his trade amidst the beautifully preserved buildings of the old town district. And yes, we have lighthouses, over twenty of them, from Yarmouth's towering Cape Forchu light, to the dramatic beauty of the famous lighthouse at Peggy's Cove.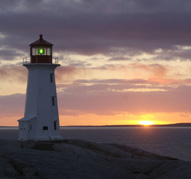 Peggy's Cove Lighthouse
South Shore – Historic and Vibrant

The South Shore vividly recalls Nova Scotia's fishing and sailing past through authentic fishing villages, white sandy beaches, island-studded bays and our famous lighthouses. You can also discover historic towns, privateering legends and local artisans.


The LaHave Islands, both those connected by causeways to the mainland and the populated islands just offshore, retain the look and feel of "old-time Nova Scotia," and this flavour is captured in the Marine Museum on Bell's Island.


At Peggy's Cove, the waves crash upon the rugged granite stones and you can mail a postcard from the only post office located in a lighthouse. Mahone Bay is known for its photogenic three churches, and Lunenburg, a UNESCO World Heritage Site is home to the Fisheries Museum of the Atlantic. Bridgewater is now the thriving commercial hub of the South Shore. It offers services and amenities from shops and restaurants, to a variety of recreational facilities, including two golf courses.
Outdoor Adventures



Coastal bird watching: Cape Sable Island

Deep sea fishing charters: Mahone Bay or St. Margaret's Bay

Exploring Sea Caves: Ovens Natural Park

Hiking and Cycling: Kejimkujik National Park Seaside Adjunct

Sea Kayaking: Dover, Peggy's Cove, Crescent Beach
Windsurfing: Crescent Beach



Kejimkujick National Park Seaside Adjunct

Classic Attractions

The Bluenose II

Historic Dock Street

Old Town Lunenburg, World Heritage UNESCO site

Peggy's Cove Lighthouse

Black Loyalists Heritage Site

Queens County Museum

Ross Farm, Nova Scotia's Living Museum of Agriculture

Sherman Hines Museum of Photography

The Three Churches

Don't Miss Festivals & Events

Chester Race Week
Great Scarecrow Festival and Antique Fair

Liverpool International Theatre Festival
Lockeport Sea Derby

Lunenburg Folk Harbour Festival

Mahone Bay Classic Boat Festival
Privateer Days
Shelburne County Lobster Festival
South Shore Exhibition